Contemporary Music
Title: La mélodie du bonheur
Type: Music album – 10 sound tracks of 6min each
Composer: Greg Beller
see also EBMS
La mélodie du bonheur is the musicalization of the emotions of our society. Since 2002, the ESS – European Social Survey, measures every month the quality of life of the Europeans. Certain questions allow to draw up, statistically, the emotional profile of Europe.
Happy:

   

How happy are You ?
Fear:

         

How Important is it to live in safe surroundings ?
Anger:

     

Most people can't be trusted?
Sadness:

 

How are you unsatisfied with life as a whole ?
The evolution of the answers to these questions on the last decade, is compressed at musical time: two years of life of the European produce one minute of music. These four accelerated temporal curves are going to serve as commands to control the EBMS. Several variants were generated, according to various algorithms of internal emotional interpolation in the EBMS. However, all these variants underline the crisis of 2008 (after 3 min), which provoked a socio-emotional strong shift, of the happiness in the sadness, followed by the anger and the fear.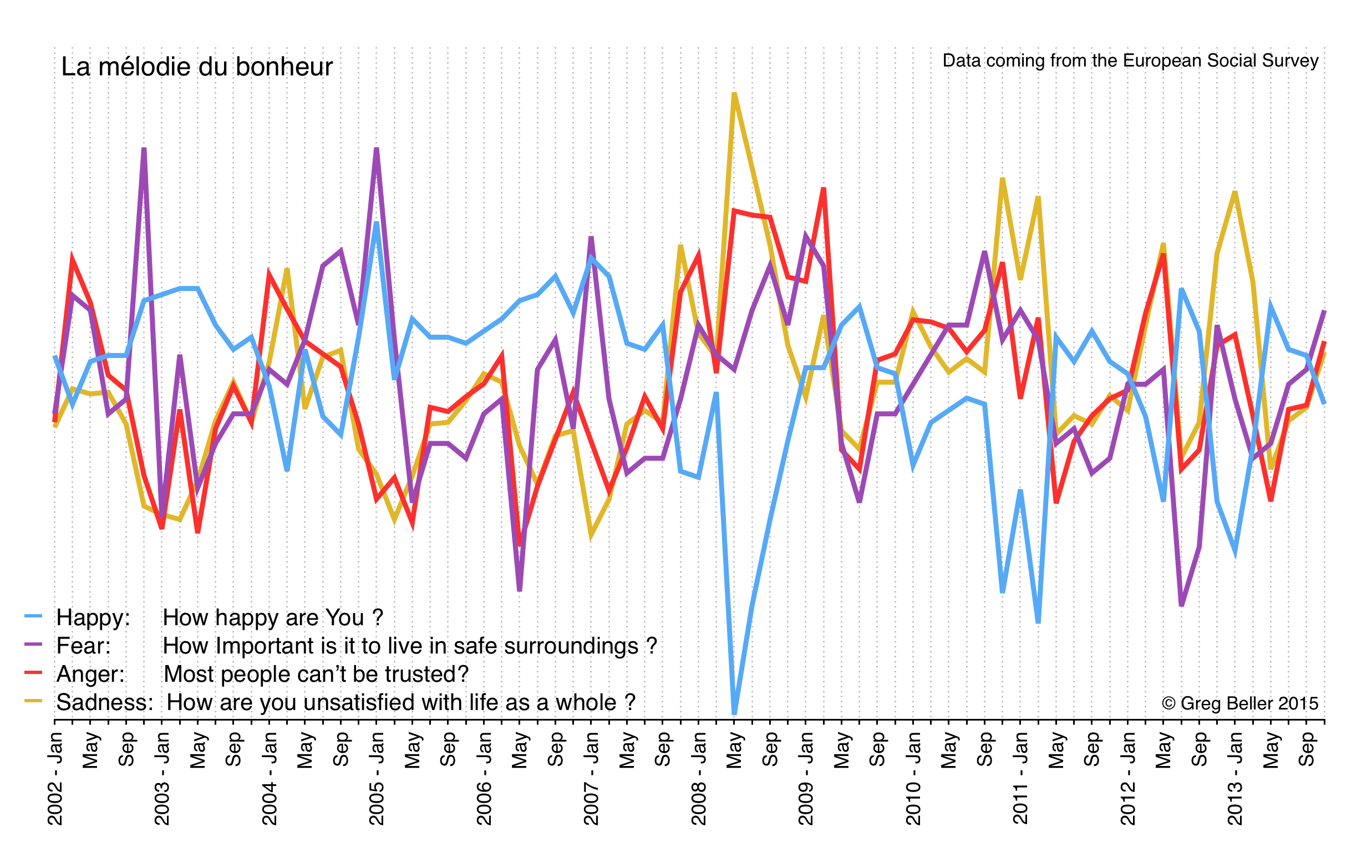 Contents of the CD:
01 – max+int V1 – MB – GB

02 – max+int V2 – MB – GB

03 – max V1 – MB – GB

04 – max V2 – MB – GB

05 – mix+int – MB – GB

06 – max+mix+int – MB – GB

07 – happy – MB – GB

08 – sadness – MB – GB

09 – anger – MB – GB

10 – fear – MB – GB